The Department of Corrections is a civilian division within the Los Santos Law Enforcement departments.
The Corrections Officers are in charge of watching guard and keeping inmates in line during their stay at Bolingbroke Penitentiary.
General Description
[
]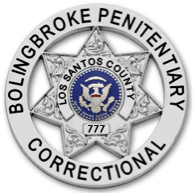 The Department of Corrections is open to legal and upstanding civilians who have been trained by either the Corrections Captains or the Wardens from the High Command division of the San Andreas State Police.
This department is a solely civilian operation, only affiliated and partially trained by the police department. The civilians are interviewed and then trained to be Corrections Officers.
*Admin's Note: If a civilian is in Department of Corrections, please put DoC in the "Certifications" slot of their character's infobox.
Staff
[
]
Civilians are hired for Department of Corrections by Johnathen Sheperd. The civilians put in an application for the Department of Corrections and are then interviewed by the Captains & the FTO's. If successful, they are supposed to attend a training day where the Captains & FTO's determine if the candidate is good fit for Department or not.
Selected Doctors are assigned to the Department of Corrections by Bobby Boolderman (Medical Director) to work on scene. Their primary duty is to maintain the health and well-being of prisoners and Corrections Officers.
Corrections Officers greet prisoners at the entrance gate, and operate and defend Bolingbroke Penitentiary. Select civilians and Wardens from the High Command division of the SASP staff the prison, and assist prisoners with rehabilitation. Prisoners are allowed to play pool, exercise, craft items, and make special prison "God Slushies" during their stay.
The Corrections Officers communicate on a radio frequency separate from the police department, but are in constant contact with EMS and LEO. The Corrections Officers are able to observe EMS and LEO dispatch calls at all times, ensuring that they are aware ahead of time in the event of an emergency situation.
Chain of Command
[
]
Kael Soze and Tony Andrews are the Wardens for the Department of Corrections.
From there, the rankings are Corrections Captain, Corrections Officer (FTO), Corrections Officer, and Corrections Medical.
Wardens (HC) retain their original LEO callsigns while on duty (as in, 2xx).
Corrections Captain and Officer callsigns begin with 7 (as in, 7xx).
Corrections Medical call signs begin with the letter MD (as in, MDx).
Rank Structure
[
]
'Note: If a guard gets promoted to a new rank, add the new rank to the list below. These are just the current ranks at the moment.
| Rank | Responsibility |
| --- | --- |
| Warden | High Command (SASP) |
| Corrections Captain | Command |
| Sr. Corrections Officer (FTO) | FTO |
| Corrections Officer | Regular Guard |
| Corrections Medical | On-Site Prison Doctors |
Certifications

[

]
| Certification | Legend | Rank Requirement |
| --- | --- | --- |
| Riot Control Certified | | TBD |
| Field Training Officer | | Approved Correction Officer |
| DoC Certified | | Approved Civilian |
Department of Corrections Member Roster
[
]